Nekos Service specialises in maintenance services for storage, sorting and conveyor systems.
We consider it an honour to take great care of the systems we have delivered throughout their entire lifespan. Our comprehensive maintenance services provide quick and reliable support in the event of a malfunction or fault. We also provide expert maintenance services for any equipment supplied by our competitors.
MAINTENANCE
Nekos Service ensures that the performance reliability and development of your production equipment are maintained effortlessly.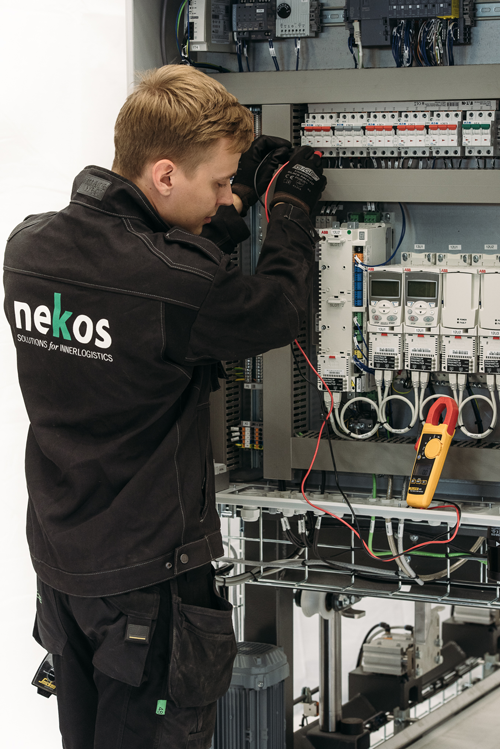 Mechanical advance maintenance includes:
Inspection of functions
Necessary adjustments, to conveyor belts, for example
Lubrication and cleaning, where necessary
Visual inspection of the condition, deformation and wear of parts
Inspection of gear noises and leaks
Inspection of sensor attachments
Inspection of engines' running noises
Specification of spare parts requirements
Inspection of documents
Automation advance maintenance includes:
Inspection of functions
Inspection and testing of safety circuits
Visual inspection of cables
Inspection of control centres
Specification of spare parts requirements
Inspection of documents
Please contact us to discuss your maintenance needs. Together, we can create a maintenance programme that best suits your requirements.
SPARE PARTS
We ensure the availability of spare parts
We are thoroughly familiar with equipment in our field. We will provide the correct spare part as soon as possible, and if needed, we can also install it for you.
With the help of our spare parts service, you can reduce your inventory and decrease investment and maintenance costs.
Quick and easy to order
Make the order quickly and effortlessly by emailing or calling us.
CONTACT PERSON FOR MAINTENANCE AND SPARE PARTS:
Lauri Toivakka
Janne Kuusisto
MODERNISATION
Modernisation increases productivity
When modernising a system already in use, we extend its lifespan by renewing its functions and parts where necessary, acting as cost-effectively as possible.
Reasons for modernisation include:
Enhancing capacity and productivity by increasing the degree of automation, for example
Improving product quality, or making changes to accommodate a new product
Decreasing maintenance needs by improving availability of spare parts and reducing malfunctions
Fulfilling environmental requirements
Improving usability
Improving safety
Improving ergonomics
Any previous risk assessment of the system will be reassessed with regard to the changes made. The equipment documentation will be updated and safety features will be inspected at the same time.
SUPPORT SERVICES
COMPREHENSIVE SUPPORT SERVICES
We provide a comprehensive range of services to support you through the product's entire lifespan. Our support services will bring you additional value and safety. Please contact us for more information about:
Safety improvements
Condition assessment
Alarm service
Programming
Training
Remote support service
Technical advisory service